Newsletter/Blog
2020-07-31
CBAR- News Flash July / August 2020
Dear Valued CBAR client
Since the first day of level 5 lockdown, CBAR has, like most other security service providers, continued to provide a rapid response to all situations requiring our services.
It was quite a surreal experience for all our CBAR officers to drive through our usually busy suburbs and find them almost completely deserted. The CBD was like an apocalyptic scene from a movie, with no movement at all, except for the occasional essential service vehicle or law enforcement agencies. Everyone within our area of operation seemed to be locked down at home as per the Disaster Management Act.
CBAR reaction officers assisted numerous clients who wanted to move valuables or alcohol, in the case of restaurants and bars, with a security escort whilst doing so.
CBAR noticed an increase in business break-ins during level 5 and 4 of lockdown. Many business owners were reluctant to give CBAR reaction officers access to their premises after an alarm activation, due to not wanting to contravene the Disaster Management Act by leaving their homes.
There too, was a marked increase in the number of homeless/displaced persons that seemed to be gravitating towards Cape Town central and the surrounding neighbourhoods. CBAR operational staff are acutely aware of the current times and crime patterns that break-ins are occurring, specifically during the 1am and 6am period.
A specialized crime prevention vehicle has been commissioned over and above our fleet of black and white CBAR vehicles. This vehicle will be used specifically during these pre-dawn break-in hours, in conjunction with the other Armed Reaction vehicles.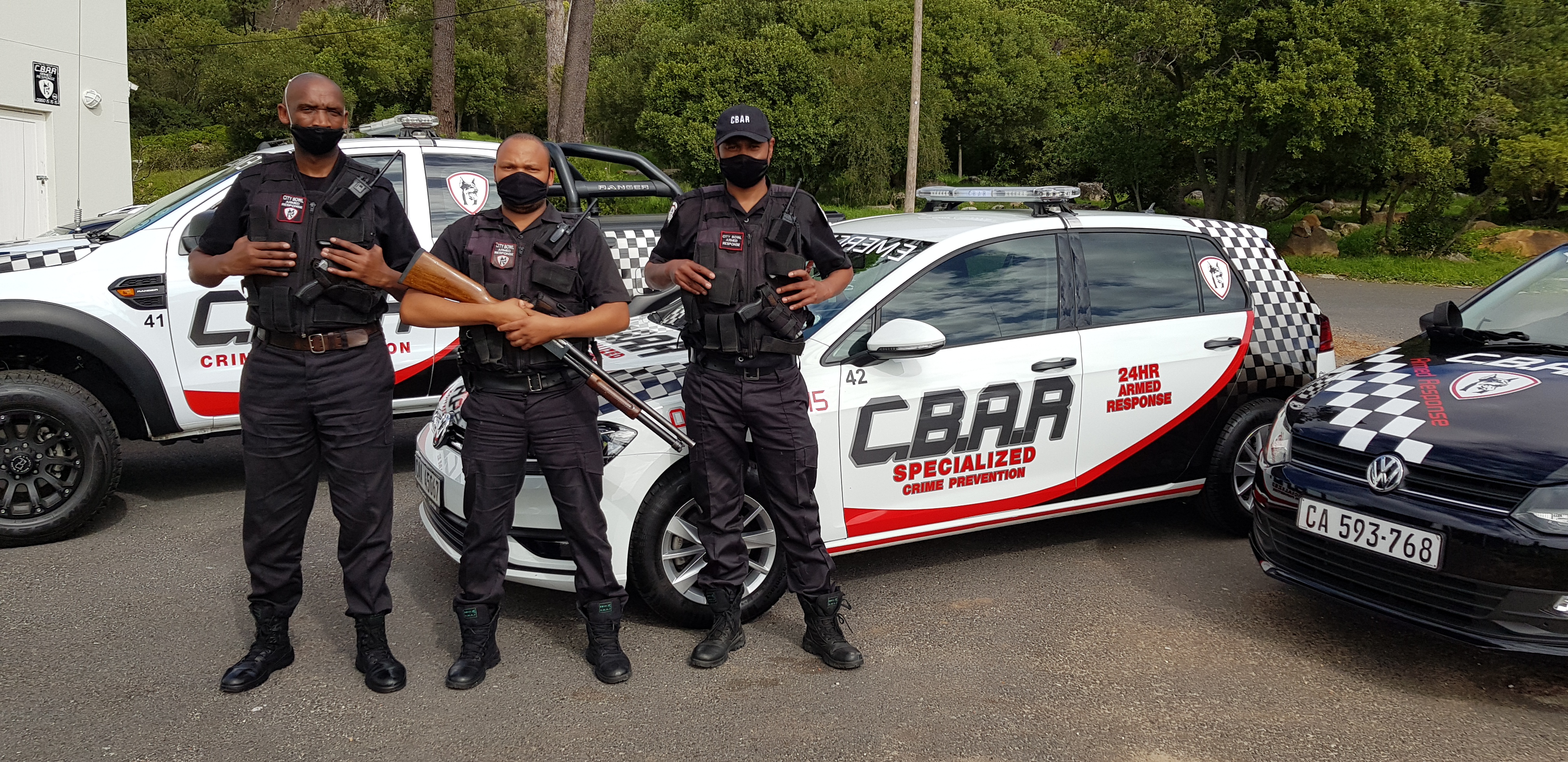 Members of our Crime prevention team with the new addition to our Armed Response fleet.
*Don't forget to test your alarm!
Your alarm system is a crucial component in your personal security. As your security service provider, we are reliant on your alarm being fully functional at all times.
With recent storms and excessive winds, foliage may have shifted, causing electrical fences to continuously trigger your alarm. Foliage too may be causing false alarms by triggering your outside beams/sensors. This will result in Reaction Officers continuously attending to your premises, slowing down response times to genuine activations.
Please remember that when leaving for work, there may be no wind, but typical to the City Bowl, this may change during the day. PIRS (passive infra-red sensors) will pick up the change in ambient temperature in a room caused by a gust of wind through an open window, causing the alarm to activate. This is a common cause of false alarms.
Your alarm system should be serviced at least once a year, as it is an electronic device that requires servicing. Outside detectors may also get water or moisture in, causing corrosion and invariably the deterioration of the sensor. Battery backups should definitely be tested as part of the servicing, as there is a specific voltage below which they will not support your alarm in the event of load shedding.
Panic buttons, especially remote panic buttons are very rarely used, and are critical components in home safety. These should also be checked by service technicians as fixed panics may corrode over time and remote panics tend to have issues with flat batteries. Please contact our technical department for a service booking on 0860 151515 or colin@citybowlsecurity.co.za.
Always arm your alarm no matter the duration you intend to leave the premises unattended.
Most importantly; If your alarm activates in the early hours of the morning do NOT assume everything is in order because you are home. Criminals set off the alarm deliberately and leave the premises to watch and wait. Rather inform the monitoring centre operator to send the Armed Reaction to do a full check, just to be sure there has not been any intrusion.
Some clients are cancelling the activation with the correct password, only to find that a break-in has occurred when they are fully awake in the morning.
As previously advised, no alarm system should be linked to our Monitoring centre via telephone only. A radio transmitter should be installed as a backup in the event that the phone line is down for whatsoever reason.
We at CBAR wish all our clients good health and all the strength during this difficult period.
IF IT'S URGENT – PHONE CBAR 0860 151515
For all security / medical and general assistance.
24 hours a day, only minutes away.
VISIT our web-site on www.cbar.co.za for all our stats.
Should you not wish to receive these informative newsflashes, Kindly reply "unsubscribe" to the above email address.
Best wishes and kind regards.
Alan Kusevitsky and the CBAR Team