Newsletter/Blog
2019-07-08
CBAR Quarterly Newsflash - June 2019
Dear Valued CBAR Clients,
Based on our statistics from the past few months, we have noticed an increase in the number of clients being surprised by intruders on their property. In most instances clients have not had security gates locked or failed to arm their alarm systems especially at night.
Importance of access to property and the role of keyholders:
Once the armed reaction staff arrive at your premises after receiving a panic call, it is critically important that these trained armed reaction officers are able to access your premises to assist when it is confirmed that there are intruders on the property. So often, due to very high walls, electric fences and spikes, full access to the property is problematic if the homeowner is under duress and unable to give access to the reaction officers.
There are various types of access control that can be linked to either an electric sliding gate or a front gate with an electric strike lock. Another alternative we recommend is that a lockbox be fitted outside the premises which can hold a remote or a key. The code to this lockbox is captured on our system and will be given to our attending officers once dispatched. The importance of getting into the property is self-explanatory and reduces the time taken to get the key-holder to unlock the premises, as well as reducing the inconvenience of same.
Our technical department will be able to best advise on a suitable solution to accessing your property. Email colin@citybowlsecurity.co.za with any queries in this regard.
Most persons listed on a client's key-holders list are not kept updated and we encourage you to please contact our office on 0860 151515 or email our customer care on customerservice@cbar.co.za to check the status of your current key-holders. Similarly, a number of key-holders are merely additional contact numbers who are not in possession of keys for the property and are unable to assist in giving officers access. The ideal situation is to appoint a friend or family member within a reasonable proximity to your property to be a dedicated key-holder in the event that CBAR staff need to gain access in a security or medical situation, which we do experience on an almost weekly basis.
Influx of homeless / displaced persons into the suburbs
With the onset of cold and rainy weather, the influx of homeless persons becomes exacerbated, as it does each winter. It is sad to see many doorways, shop fronts and other sheltered areas filled with persons seeking shelter.
Also noted in particular this winter is the increase in "gangsters" from the various numbers gangs in and amongst the neighbourhoods. With the increase in gang violence in the Cape flats and surrounds, many "gangsters "have found it far safer living within the City Bowl area, and our staff have identified some of these persons.
Arrests have been made for various offences and some of those arrested are hardened criminals. Officers have noticed that in the early hours of the morning there is an increase in pedestrian activity into the neighbourhoods, and are challenging these persons within the framework of the law.
CBAR has the legal right to arrest any persons found on your premises without consent, as well as to remove such persons. We do however not have the legal right to remove or arrest any such person/s if they are in a public area, such as streets, parks or just in the neighbourhood, unless they have been seen to be committing a schedule one offence e.g. Robbery, housebreaking and theft out of motor vehicle etc. These laws are applicable to all private security service providers.
Taking responsibility for your property
Recently, at around midday, within a 45 minute patrol of Higgovale; our patrol vehicle passed a property with an open security gate and two garage doors that had been left open on two further properties. One of the properties had the garage and the inter-leading doors wide open. In the perfect world, this would not be an issue, but unfortunately the reality is that this is an open invitation for any passer-by with criminal intent, to simply walk straight into the home where a host of different crimes may have been committed. Our reaction officer found one of our female clients alone in her home and she was quite surprised when the officer appeared to inform her of how accessible she had left her property.
When there is a sliding gate or garage door with direct access, get into the habit of closing them before alighting from your vehicle and ensure that there are no vehicles following you as you turn into your property.
With street robberies on the increase, visible jewellery such as gold chains, watches and cell phones are again targeted items. Sir George Grey Street, Breda Street, Mill Street, Orange Street and Derry Street are current hotspots. Always be aware of your surroundings while out walking.
CBAR staff were alerted by a by-stander to an incident which seems to be happening quite frequently at present. Cameras at our Head Office in Upper Buitenkant Street facing up Myrtle Street, recorded a female driver park her vehicle and place items in her boot before walking away from her vehicle. Before she remotely locked her vehicle a potential criminal had the time to sneak up to the passenger door and open it before the car was remotely locked. The woman walked across the road, believing that her car was locked, whilst he was crouching on the pavement next to the open car door. Fortunately a bystander observed this and came to report it to CBAR. The suspect then fled the scene once he knew he had been seen.
It is important to check your car doors are locked before walking away without blatantly placing laptops or shopping goods into the boot for all to see. Be vigilant for the persons watching you. Shopping centres and busy parking areas are targeted continuously with the particular type of criminal act. No electronic jamming device is required, just the sheer speed at which they open a door to your car whilst you are walking away before remotely locking it. The person standing next to your passenger side, may not be getting into the car next to you, but rather positioning himself to open your door.
WhatsApp!
CBAR is on most of the WhatsApp groups throughout our area of operation, which include streets that have their own WhatsApp groups, Neighbourhood watch groups, Law enforcement, Crime forums, Block watches, Displaced peoples unit, CTC camera intel team, LPR and the likes.
In the event of an emergency call our MONITORING CENTRE on 0860 151515 to have one of our armed reaction vehicles dispatched to you. Sending a WhatsApp message is NO guarantee of a response, as all dispatches must be logged on our telephone monitoring system and all alarm signals will be recorded on our base station for future reference. This is standard operating procedure.
Closed Circuit Television (CCTV), the next level in your security
CBAR offers a full range of CCTV solutions for both domestic and commercial applications, helping to improve your security by placing surveillance in your hand via a smartphone. These easy to use, exceptionally practical solutions allow you to view and access real time footage through an App on your smartphone or on your PC from anywhere, at any time.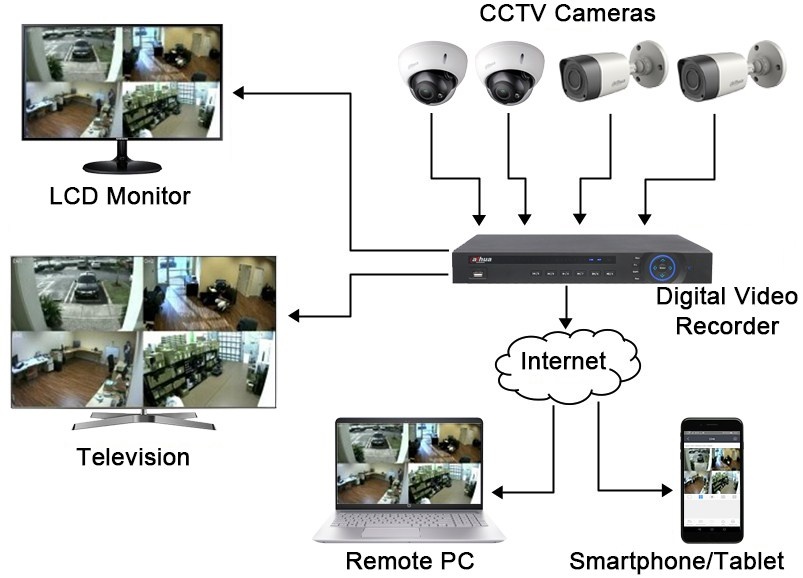 IF IT'S URGENT – PHONE CBAR 0860 151515
For all security / medical and general assistance.
24 hours a day, only minutes away.
Should you wish to discuss any camera applications kindly contact our offices on 0860151515
Don't forget to have your alarm serviced annually.
VISIT our web-site on www.cbar.co.za for all our stats.
Best wishes and kind regards.
Alan Kusevitsky and the CBAR Team